Welcome to Katron Creative!
For over 40 years our team has assisted businesses and organisations of all sizes with their marketing: from logo design to stationery; signage; website design; leaflets; radio commercials and so much more.
Ask about our economical website packages : tailor designed for Businesses, Charities, Clubs, Associations, Not For Profits and Schools. Katron's experience and reliability will help you build sales and profits, connect with new people, increase engagement AND rank in Google. Fast launch times.
Katron's Graphic Design, Copywriting, Marketing and Event Management team members are as versatile as they are imaginative. Brainstorming sessions at the start of a project are a fun way to plan, plus to pull quotes together to ensure each and every project meets objectives, on time and on budget.
FIRST MEETING FREE : EXPLORE YOUR OPTIONS
Phone (08) 8231 0636 today to book a convenient time.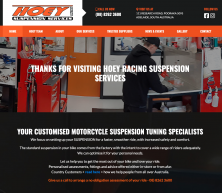 Read More
It was a genuine pleasure to work with Donna, Pete and their Hoey Racing Suspension Services team on the development of their website. Just as they are passionate about motorcycles, we at Katron Creative are equally passionate about about developing online marketing solutions that deliver real results.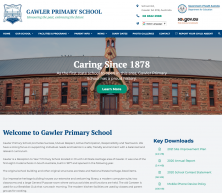 Read More
One of the earliest public schools established in South Australia, Gawler Primary School has the motto of "Honouring the past, embracing the future". This philosophy is reflected in their new website, developed by Katron Creative, which showcases the School to its community (both existing and potential new families) and external stakeholders.
Experience Counts
Having started as a traditional Advertising and Marketing agency in the 1980s, our specialties originally revolved around:
• press & magazine advertising
• logo & corporate image design
• building & vehicle signage
• newspaper & newsletter publications
• press releases & public relations
• leaflets, brochures & catalogues
• technical documents
• product livery & packaging graphic design
• direct mail pieces
• retail & industrial product catalogues
• event management
• exhibition & display materials
• outdoor advertising & promotional materials.
Katron Creative still offers all of these services, but keeping in step with the changing needs of our clients we now have a strong focus on the design and development of simple to use, very effective websites, search engine marketing and social media.
Our emphasis on creative and distinctive marketing and communications is as strong as ever. These traits are as important on the Internet as they are in print, broadcasting or in any other media. Of course, the web offers new and unique opportunities and our role is to help our clients capitalise on those.
---
Book a Brainstorming Session
Some clients utilise our Round-Table Brainstorming Sessions (read more) as an outstanding way to bring external marketing professionals into their business to bounce around ideas.
Call us to find out more on 8231 0636.